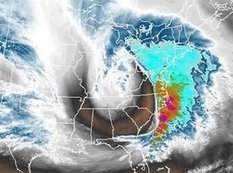 Winter storm Euclid continues its assault on the US today as it pounds New England with heavy snow while scientists caution that monumental snowfalls are a sign of things to come.
A water vapor view of winter storm Euclid on Wednesday. Scientists say that heavy snowfall is related to increasing temperatures on the Earth's surface. (Image: NOAA)On Christmas Day a massive swath of the country experienced weather so extreme it will likely go down in history as the worst Dec. 25 tornado outbreak on record.
Co-founder and director of meteorology at the Weather Underground, Dr. Jeff Master, writes:
The impressive storm is highly likely to set a record for most tornadoes spawned on Christmas Day, as 11 tornadoes have been confirmed, and there are at least 14 other suspected tornadoes that occurred. The most tornadoes ever recorded on Christmas Day was twelve, back in 1969. The storm spawned an additional confirmed tornado on December 26 in North Carolina.
He says that at least two of the Christmas Day tornadoes were rated EF-3 on the Enhanced Fujita scale, which rates the strength of tornadoes based on the damage they cause; only four other EF-3 tornadoes have been recorded on Christmas Day since 1950.