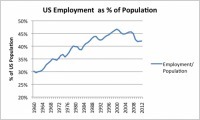 The number of jobs available to job-seekers has been a problem for quite a long tine now—since 2000 in the United States, and longer than that in Europe. If we look at the percentage of the US population who are employed, it is now back to 1984 or 1985 levels.
A Strange Relationship – A Close Tie Between the Amount of Energy Consumed and the Number of People Employed
Since 1982, the number of people employed in the United States has tended to move in a similar pattern to the amount of energy consumed. When one increases (or decreases), the other tends to increase (or decrease).