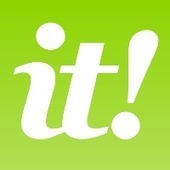 With Scoop.it you express yourself and your perspective on topics that matter to you through idea discovery, content curation, and social sharing. It's as simple as that.
A rating system lets you know how you are doing with each topic you produce which I find especially helpful in keeping me on my toes. Just like any one, I like high ratings
Each time I visit, there is a running drop down list of notifications as follows:
People who follow one of my topics.

With this notification I can view their topics and choose the ones I want to follow.

People who commented on my scoops.

I have the chance to thank them immediately and respond to those who left comments.

People who Rescooped my scoops.

Again, I view their topics and choose which ones I want to follow. I also thank them for the rescoop and respond their insights on the topic.

Alerts from the posting services if they were unable to post my scoop.

This is an alert to check on the service and fix what needs fixing.
The apps and extras make any social media venue more interesting and fun. Here is the list of current apps and extras available now on Scoop.it. You can visit the apps and extras page here: http://www.scoop.it/extras
View lists and more details on:
http://crazydreamersdo.com/scoopit-and-content-marketing-analysis