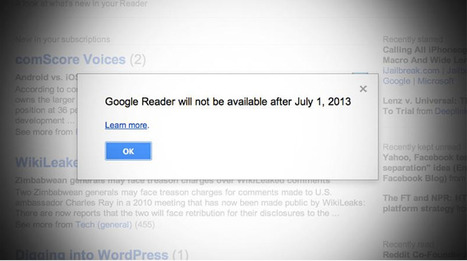 By John Paul Titlow
"The shutdown of Google Reader has sparked outrage among a passionate minority. Here's why we're so upset.
"When people use a Web-based service so heavily for so many years, they take its presence for granted. Of course Google Reader is there. When we open a new tab and tell our browsers to go there, the interface will load and there will be new things to read. It doesn't even cross our minds (even if it should) that Reader will one day disappear. We don't think about the contents of these browser tabs from a CEO's perspective. We're just users. Over time, the places we go on the Internet almost start to feel as much a part of our environment as our physical surroundings.
"That's why, when faced with the prospect of such a service going away, people freak out. For those who rely on it the most, especially for professional purposes, the feeling is especially unsettling."
Via
Jim Lerman