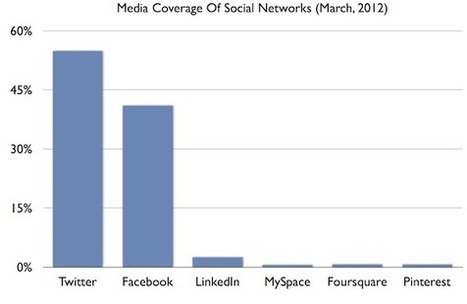 Twitter Widens Gap On Facebook (But Pinterest Is On The Rise) In Monthly Media Coverage [STUDY]...
Last December we looked at research that showed how Twitter received more media coverage than any other social network in 2011, receiving approximately 50 percent of all media coverage of social networks throughout the year. Facebook was a close second at 45 percent, with LinkedIn (3.33 percent) a very distant third.
But has this trend continued into the first quarter of 2012, or is Twitter's lofty position under threat from Facebook, and other, rising social platforms such as Pinterest?
The short answer: no. In fact, Twitter has widened the gap.