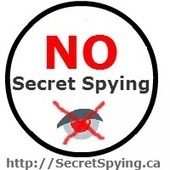 What a response! It's been just over 24 hours since we launched our No Secret Spying campaign, and already over 10,800 citizens have signed up in support, along with a broad range of groups from across Canadian civil society. More people are signing up every minute, and we thank each and every one of you for your support – we know that our voices are strongest when we stand together.
Our No Secret Spying campaign was launched to protest the shocking revelations that an ultra-secretive spy agency called Communications Security Establishment Canada (CSEC), was systematically collecting the private information of innocent citizens, including Canadians, from around the world.
These revelations followed hot on the heels of news that the U.S. National Security Agency had also been spying on the private phone calls and Internet activities of millions of people around the world. The NSA is a partner of CSEC in the 'Five Eyes' program (a long-standing intelligence-sharing arrangement between the U.S., Australia, Canada, New Zealand, and the U.K.) and it now looks like CSEC has been working through the NSA and its 'Five Eyes' partners to circumvent surveillance laws that prohibit CSEC from spying on Canadian citizens.
OpenMedia.ca, through our No Secret Spying campaign, is calling on the government to make public the details of Canadian intelligence agencies' online spying and data-mining activities, including those involving foreign states. It's vital that Canadians get answers about the extent and details of this mass surveillance program in order to have an intelligent and informed debate about issues of surveillance and privacy in Canada.
Click headline to read more--