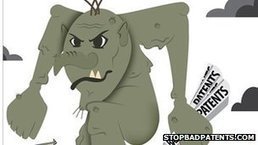 The Internet Association is among a group of US trade bodies behind a new campaign calling for politicians to take action over patent trolls.
Patent trolls take out generalised patents, often on widely available technology, and then demand money from companies who use or offer it.
Shops and restaurants have been targeted for displaying QR codes and online store-locators, say the groups.
The radio and print adverts will appear in 15 US states.
"Patent trolls don't make anything, they just get rich," is a line from the Stop Bad Patents campaign, which claims that businesses can find themselves facing demands for $100,000 (£65,000) to settle - a considerable sum but often cheaper than defending themselves in court.
Its organisers want voters to contact their Congress representatives asking them to "stop bad patents, stop the trolls".
Click headline to read more--