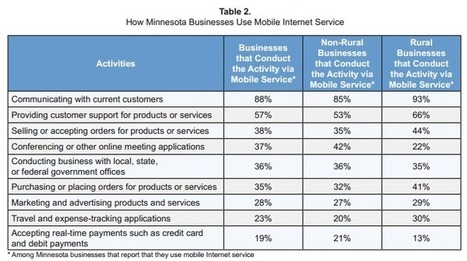 Connect Minnesota released results of two surveys this week. I wrote about the Residential use of mobile broadband earlier today; now I will focus on the business use report. Here are some of their highlights…
More than a third (34%) or approximately 49,000 businesses in Minnesota use mobile Internet service.
Mobile Internet service is used most by businesses in the high tech sector, businesses that have 50 or more employees, and businesses located in non-rural areas.
Communicating with current customers is the most used application through mobile Internet service.
Rural businesses tend to use their mobile Internet services to access a wider variety of applications than non-rural businesses.
I think it's interesting to look at the ways that businesses are using mobile services:
Click headline to read more and view table full screen--