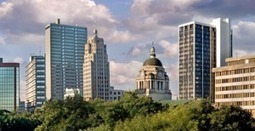 A fiber optic network may be only as good as the marketing that sells it.
If that is true, Fort Wayne residents have made their choice, and they prefer Comcast Cable over Frontier Communications FiOS.
City officials released figures this week showing Comcast has a clear lead in the Indiana city. Both companies pay the city franchise fees to do business in Fort Wayne, and Comcast paid almost $435,000, almost double Frontier Communications' $262,556.
Frontier assumed control of the fiber optics network when it purchased the local assets of Verizon Communications. But Frontier quickly found that volume pricing for video programming gave the old owner a decided advantage. Frontier found programming prices for its comparatively smaller footprint far higher than what Verizon paid, and quickly began encouraging its fiber video customers switch to DirecTV satellite service. Comcast responded with a billboard campaign that suggested Frontier was getting out of the fiber business, and encouraged customers to come back to cable.
Some did, but Frontier says it remains committed to its inherited fiber network, even though it lost over 10,000 customers last year.
Click headline to read more--