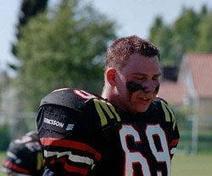 This is my little brother. His name is Håkan Bylund, he runs about two inches and two shoe sizes larger than my piddly 6'5" and size 13, and he loves playing football. A two-way threat, Håkan is both a devastating defensive end and a solid hand at the crucial left tackle spot. Yes, this quarterback is a rightie.
He's also into computers and the Internet. In fact, I can't imagine him without a high-speed broadband connection. It's how he gets his news and information, where he enjoys most of his entertainment, and the only way to shop. Some things just run in the family, I guess.
Right now, he's using a fiber-optic connection that provides 30/30 speeds. That's 30 megabits per second for downloads and 30 for uploads. For this, he pays about $38 a month. He's planning to more than triple his downloads to 100 megabits and sacrifice some upload speed, landing at 10 megabits. It'll cost him $39.70 a month.
That is, if he stays with his current fiber provider. But that's not a given, since 11 providers offer 100/10 connections to Håkan's apartment. They range in price from $36 to $65 a month. For a cool $70 a month, he could even upgrade to a full gigabit connection. You know, like Google Fiber. But he doesn't know anyone using that package. "It's rare to need that kind of speed for personal use," he tells me.
Moreover, he's not locked in to fiber. There's also about 10 ADSL providers for his address, one cable TV vendor, and a plethora of mobile operators. Mobile broadband is a viable option, and can provide 40 megabits up and down over 4G LTE. One company sells these high-speed 4G LTE subscriptions for $15.40 a month, plus a one-time fee for the network router unless you're committing to a two-year contract. If you do, some of the hardware options would be free.
My own broadband is a bit faster than Håkan's current plan. I'm using Verizon FiOS fiber for a 50/50 connection. This comes in handy when I'm uploading videos to our Foolish systems, for example. And it costs me $83 a month.
For that price, my brother could get a full gigabit connection. And he'd have enough money left over for a couple of extra burgers every month. Gotta fuel the sack machine. His current 30/30 connection costs less than half of my subscription, which is somewhat faster but in the same ballpark.
No, Håkan doesn't live in one of the anointed Google Fiber cities. If he did, the gigabit connection would indeed cost $70 a month, but he'd have nowhere near the amount of choices that he has today.

You see, my brother stayed in Sweden while I went to Florida. In the old country, there's a political will to encourage competition. Municipal fiber networks got tax breaks and subsidies early on. It's through one of those municipal fiber networks that my brother enjoys about a dozen service provider choices, all leasing access on the same infrastructure.
Click headline to read more--