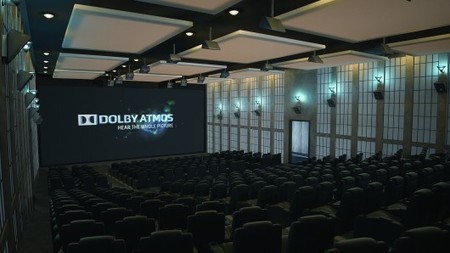 The name Dolby Laboratories has long been associated with innovative and world-leading sound reproduction. Its latest creation, Atmos, has come at the perfect time to augment the unprecedented immersive experience of big screen 3D stereoscopic images.
The principle behind Atmos is one of constructing a 3D framework of independently controlled speakers completely lining the cinema, including the ceiling, to provide pinpoint accuracy for the origin and movement of individual sounds. By combining traditional channel-based audio (5.1 or 7.1 surround) with individual audio "objects" the Atmos system has now launched movie soundtracks into the world of true 3D.
Disney, Fox, Pinewood Group, Sony Pictures, Skywalker Sound, Paramount and ToddAO are just some of the movie post production facilities to have recently installed Atmos mixing suites. While the first Atmos release was Pixar's Brave in 2012, uptake in cinemas will take a little more time as, naturally, an investment in speaker and hardware upgrades is needed but many have already taken the plunge.
Click headline to read more--