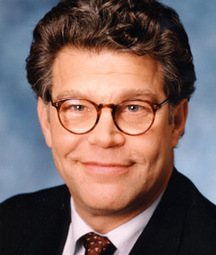 Sen. Al Franken (D-Minn.) has turned over much of his campaign website to expressing concern about the merger of Time Warner Cable and Comcast.
Franken has maintained a comparatively low profile since arriving in the U.S. Senate and rarely grants interviews to reporters outside of Minnesota, but after the announced $45 billion merger deal between the two largest cable companies in the country, he started making exceptions.
Franken has repeatedly tangled with Comcast, the dominant cable operator in his home state, since being elected. He favors Net Neutrality/Open Internet policies, strongly opposed Comcast's purchase of NBCUniversal, and believes cable rates are too high and service quality is too low.
Although the senator claims he remains undecided about the merger, his public comments suggest he is likely going to oppose the deal.
"We need more competition, not less," said Franken, who mocked Comcast's claim that the two cable companies never compete with each other. "This is going exactly in the wrong direction. Consumers, I am very concerned, are going to pay higher bills and get even worse service and less choice."
Although the merger will leave the combined company serving nearly one in three households, Comcast says it plans to keep its total nationwide broadband market share under 30%. But Franken points out Comcast isn't just a cable company. It also owns a major television network and has ownership interests in nearly three dozen cable networks and television stations around the country — many in America's largest cities.
Click headline to read more--