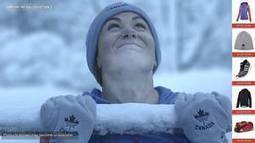 Sport Chek wants you to buy the coat off Jon Montgomery's back.
Mr. Montgomery is one of the Olympians appearing in a new ad for the Canadian Tire Corp. Ltd.-owned sportswear and equipment retailer. The ad, one of two unveiled Monday on YouTube, is an experiment – a "shoppable" video. Digital tags embedded in the video allow viewers to click on the items worn by athletes, who are depicted training amid winter scenery. Those who click are then taken to the retailer's e-commerce site.
In addition to selling sporting wear for Sport Chek, the ad is part of an important strategy for YouTube parent company Google Inc., as it seeks out more ways to attract advertisers, who account for 91 per cent of Google's revenue (excluding Motorola; 84 per cent over all). Internet video has become a key medium for advertisers as they battle against digital-age attention spans to try and get noticed.
"We think there's a tremendous opportunity for retailers here," Rafe Petkovic, head of retail at Google Canada, said. "Traditionally, they inspired customers through television advertising, but didn't link them to the purchase point."
Click headline to read more--