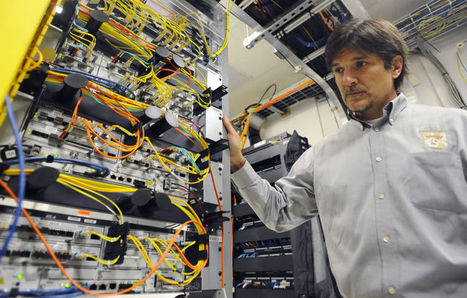 Ten years ago, getting data to a client was challenging for Tuck Mapping Solutions owner Bobby Tuck. At times, he pulled a hard drive out of his computer and mailed the hardware.
Based in Big Stone Gap, Va., his company produces digital survey maps from airplanes and the files contain huge amounts of data.
Partially because the Virginia Tobacco Commission has invested millions of dollars into broadband in Southwest Virginia, Tuck now transmits data over the Internet.
"It improved my business dramatically," Tuck said.
The Tobacco Indemnification and Community Revitalization Commission was created in 1999 and tasked with doling out the money won in a lawsuit filed against major tobacco companies to improve the economy of the two areas hard hit by the dwindling tobacco industry, Southwest and Southside.
In Southwest Virginia, most of the pie has gone toward broadband technology. BVU alone has received $34.4 million to install broadband across the region.
Early on, members of the commission saw technology as a way to improve the lives of citizens in Southwest Virginia. Former state Sen. William Wampler, who represented Southwest Virginia and served on the Tobacco Commission, said it was formed during the dot.com boom of the 1990s. At the time, many areas of the country did not have broadband Internet service, but Wampler said it was clear that it would be essential to business development.
"We wanted an institutional investment that was transformative," Wampler said.
In 2001, Bristol Virginia Utilities began providing cable, phone and Internet to a limited area around Bristol, Va. By 2003, the company had invested $25 million and served about 2,300 customers with the new service called OptiNet.
BVU began looking at the Tobacco Commission as a way to expand the service and found an ally in Wampler.
Click headline to read more--