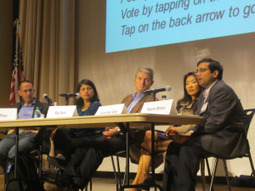 Before the world can reap the true benefits of the internet of things — a collection of billions of connected devices which could contribute tens of trillions to the global economy by 2030 – there's an awful lot of expensive heavy lifting to be done, both on the device side and in the network infrastructure.
When that mission will be accomplished depends largely on ubiquitous and affordable wireless connectivity. The problem is that wireless connectivity doesn't come cheap even for the millions of smart phones in use now and that cost issue needs to be resolved before the broader IoT can take off, said speakers at the Harvard Business School's Cyberposium 2013 Saturday morning.
Wireless connectivity "costs billions of dollars. It's not just about laying fiber. Frequency does not grow on trees — it is a precious resource," said Susie Kim Riley, founder and CEO of Aquto, a mobile internet startup.
To fund it, the industry needs new business models, said speakers talking about the future of mobile technology. It's a chicken-and-egg thing. Until more subscribers sign on for cellular data plans such plans will be too expensive for the masses. But until prices come down, subscriber count won't reach critical mass.
Right now, if you're a mobile worker, you probably have Wi-Fi at home and at work that handles the bulk of your data traffic. But you rely on a carrier's cell network to do all the stuff in between. And for that, "you pay dearly," said Steve Papa, who founded Endeca, and who now invests in tech startups. It is in that in-between area that many of the hurdles to IoT lie.
In developing countries, a mobile data access plan can cost $2000 for two years. That means many people there might have to choose between paying for the phone or for electricity, said Bob Davis, general partner with Highland Capital Partners and the founder of Lycos.
Click headline to read more--