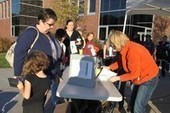 Fifty Lake County families are a little more tech savvy these days.
Thanks to a partnership between the Blandin Foundation and the nonprofit PCs for People with some facilitation by the Lake Superior School District, 50 low-income families received free refurbished computers last Wednesday.
"I think this is really going to help bridge the gap in our school district and we're just really looking forward to it," said Kris Lee, technology director at the school district.
Scott Lumbar a computer technician at PCs for People, was at Two Harbors High School last Wednesday, handing each pre-approved family that showed up a processor, monitor and keyboard after they completed a 20-minute course put on by another PCs for People staff member.
"There's such a huge technological gap," he said. "I'm glad we're able to help bridge that."
PCs for People is a nonprofit founded in 1998. The St. Paul, Minn., based company accepts donated computers, refurbishes them and gives them to low-income families. Thanks to a partnership with the Blandin Foundation, Lake County was granted the 50 computers distributed last week.
With broadband internet soon to be available in the entire county, community leaders have been looking for ways to educate the public and ensure the new service is used to its full potential. Lake County was named a Blandin Broadband Community in November 2012, one of nine selected across rural Minnesota. Since that time, the county has convened a leadership team and engaged the community in a two-year project to make the best use of information and services that broadband can deliver.
Click headline to read more--