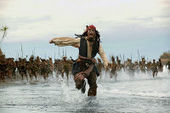 In recent years hundreds of thousands of Internet subscribers have been sued for downloading copyrighted material in the United States, but not a single case has gone to trial.
Most of the defendants are sued in bulk, with copyright holders joining hundreds or thousands of alleged copyright-infringing IP-addresses in a single complaint. The rightsholders then ask the court to grant a subpoena to identify the account holders behind the IPs, who are then approached with settlement requests of a few thousand dollars.
After an initial avalanche of mass piracy lawsuits in 2010 and 2011, federal courts in several districts ruled that these cases should be restricted to one defendant each. Last year several ISPs asked for a similar ruling in the District of Columbia, but without success.
Judge Beryl Howell ruled against the Internet providers and granted the adult movie company AF Holdings the right to obtain the personal details of more than 1000 Internet users suspected of downloading their works using BitTorrent.
The adult film studio and its controversial law firm Prenda celebrated the verdict as a huge win, since many other judges had previously rejected joining so many defendants in one lawsuit. Adding to the controversy, Judge Howell told the ISPs who joined the case that they were not doing enough to stop online piracy.
The ISPs were disappointed with the ruling and Comcast, Verizon, AT&T, Time Warner and Cox filed an appeal hoping to reverse it. The case has been lingering for a few months but yesterday the ISPs filed their latest brief.
Click headline to read more--