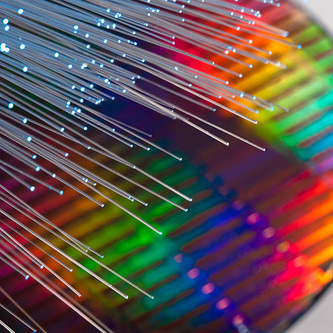 Intel hopes to make computing far more efficient by introducing a technology that replaces conventional copper data cables with faster optical data links. The breakthrough required Intel to fit lasers and other optical components onto silicon chips, which usually deal only with electronic signals.
The initial version of what Intel calls its silicon photonics technology can transmit data at speeds of 100 gigabits per second along a cable approximately five millimeters in diameter. Intel will offer it for use connecting servers inside data centers, where it can take the place of PCI-E data cables that carry data at up to eight gigabits per second and networking cables that reach 40 gigabits per second at best. The latest version of the USB standard common in consumer gadgets can move data at only five gigabits per second.
"We're launching this in mass production, and Intel has decided to make a significant investment," says Mario Paniccia, who has led Intel's silicon photonics research for years and now heads the group commercializing it. "We have lots of customers." Future versions of the technology are intended to appear outside data centers, perhaps in consumer applications.
Intel's technology can significantly reduce the costs of running a data center—the large computing clusters that crunch data, run apps, and host websites. That's because one of Intel's new optical cables can replace 10 or more of the relatively bulky PCI-E copper cables that connect servers stacked on the same rack. Those cables impede the flow of air used to cool servers. Data centers vary in their efficiency, but it is typical for cooling to account for roughly half the cost of running a data center.
Intel's silicon photonics technology can also be used to replace conventional Ethernet networking cables. It could allow companies to rethink established ways of organizing computers inside data centers.
Click headline to read more--