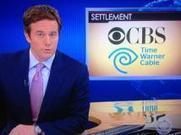 CBS and Time Warner Cable ended their month-long retrans dispute on Monday, agreeing to a deal that will restore CBS programming to 3.2 million cable customers in New York, Los Angeles and Dallas.
In a brief statement at 5 p.m. on Monday, CBS said that an agreement had been reached and that programming would be resume at 6 p.m. (ET). The stations went dark on Time Warner Cable systems on Aug. 2.
Though specific terms of the deal were not disclosed, that parties said in a statement that the agreement includes retransmission consent, as well as Showtime Anytime and VOD, for CBS stations on Time Warner Cable systems in New York (WCBS and WLYW), Los Angeles (KCBS and KCAL) and Dallas (KTVT and KTXA).
In a memo to employees, CBS CEO Les Moonves noted that the dispute was one of the more diffulcult for the broadcaster, but expressed relief that the battle was finally over.
"This was a far more protracted dispute than anyone at CBS anticipated, but in spite of the pain it caused to all of us, and most importantly the inconvenience to our viewers who were affected, it was an important one, and one worth pursuing to a satisfactory conclusion," Moonves said in the memo. "That has been achieved. The final agreements with Time Warner Cable deliver to us all the value and terms that we sought in these discussions. We are receiving fair compensation for CBS content and we also have the ability to monetize our content going forward on all the new, developing platforms that are right now transforming the way people watch television."
Click headline to read more--