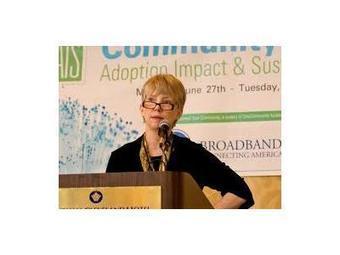 As the pace of network buildouts increases, communities sooner or later must face the reality that these networks succeed or fail largely on the strength of broadband adoption, a.k.a. marketing and sales. Either you have enough subscribers (paying or otherwise) for the network, or the network is not financially sustainable.
NTIA Program Director for Public Computing and Broadband Adoption Laura Breeden informs listeners about a new, detailed guide book the agency developed to help you create and implement successful adoption programs. She also presents practical tips for producing making broadband relevant for hard-to-reach constituents.
Ms. Breeden addresses:
* developing the right elements of an adoption program;
* effective awareness and outreach activities;
* getting affordable computers and Internet access to constituents; and
* designing digital literacy training that works.
Click headline to listen to this Gigabit Nation interview--