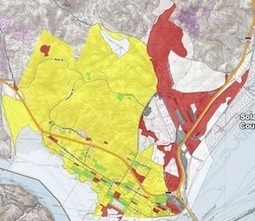 The City of Benicia, in the northern San Francisco Bay Area, is jumpstarting industrial grade broadband development. The city council gave a green light to a plan to put $750,000 the table and ask private companies to come up with ideas for bringing high capacity broadband access to a prime industrial park and the surrounding area.
Tellus Venture Associates evaluated the broadband facilities available in and around the Benicia Industrial Park. I presented our analysis last week, recommending that the city explore a public-private partnership, with both incumbent and competitive carriers, to build high capacity infrastructure, including links to Tier 1 exchanges. $750,000, previously earmarked by the council, sweetens the pot for the project.
A few high tech companies have trickled into the Benicia Industrial Park in recent years, but many others have passed it by because broadband service is limited to whatever AT&T's ageing lines can support. Comcast, despite what it tells the public (and the California Public Utilities Commission), is missing in action. Some companies have solved their connectivity problems with custom wireless or wireline solutions, but those are expensive and only capable of addressing specific needs.
Click headline to read more--