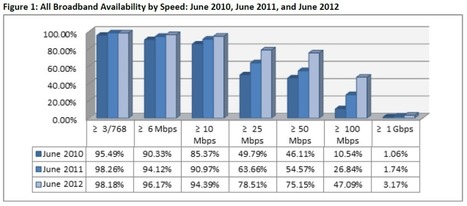 NTIA's Report on Broadband Availability is out. They have tracked availability from June 2010 to June 2012. Here's the quick answer above…
"Broadband at the basic speed combination of 3/768 is available to 98.18% of the population, and 94.39% of Americans can subscribe to services of at least 10 Mbps."
I'd like to remove that 3/768 track, but the NTIA explains why they track such slow speeds…
"NTIA begins its analysis at the combined advertised connection of 3 Mbps downstream and 768 kbps upstream, which is the closest combination of speeds for which NTIA collects data that would allow a consumer to "access a basic set of applications that include sending and receiving e-mail, downloading Web pages, photos and video, and using simple video conferencing."
I think it's also important to know their definition of available; it's a little non-standard…
"For the purposes of NTIA's data collection, broadband is "available" if it can be deployed to a business or consumer within 7-10 business days and without an extraordinary commitment of resources. This definition is in contrast to "adoption," which means that a consumer or business subscribes to or uses broadband at a particular location. The definition of broadband does not specifically include price, latency, bandwidth limitations, or other factors that may impact a user's ability to purchase or use the service."
What about Minnesota?
As always I'm most concerned with how Minnesota stacks up in the report. They include a list of the top 15 States with Most Broadband Access at 10, 25, and 50 Mbps. Minnesota does not make any of those lists. I guess on a silver lining note, we don't make the worst list either. Minnesota also got no mention on a recent Akamai report that track speed and adoption.
About a week ago, Connect Minnesota gave a sneak preview on Minnesota's broadband availability. (Connect Minnesota provides data to NTIA for their report.)
Click headline to read more--