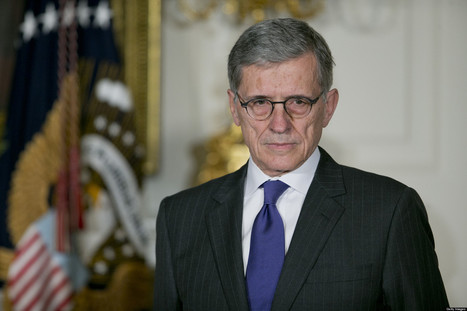 When President Obama nominated Tom Wheeler as the next chairman of the Federal Communications Commission, he praised him as the "Bo Jackson of telecom" -- because he has been an all-star in two industries.
During the early 1980s, Wheeler headed the National Cable and Telecommunications Association -- the main cable TV lobby -- and from 1992-2004, he was the chief lobbyist for the mobile phone industry.
But to be fair, Wheeler is really a triple threat. He's also a major-league fundraiser who bundled more than $700,000 for Obama's two presidential campaigns.
As a consummate industry insider and elite rainmaker, it's really no surprise that Wheeler is getting this job. More surprising perhaps is that so many people with public interest bona fides seem to think he's such a good choice.
The remarkably similar arguments that Wheeler's supporters make to skeptics like me can be summarized as follows:
I know Tom Wheeler.He isn't Julius Genachowski. (OK, so that is a bonus.)He's "personally liberal" (whatever that means).He won't need another job after this one.He's already rich.
I mean, can you even think of a time when putting a rich industry insider in charge of a crucial government agency has not worked out for the public interest?
I don't know Tom Wheeler. So I have to base my evaluation of his candidacy on things in the public record, like the fact that he headed not one but two trade associations for the major industries the FCC regulates. Or what he wrote on his blog.
We also can now see his financial disclosures, which the Office of Government Ethics made public late last week. Those documents do confirm one thing: Wheeler is definitely rich.
There's barely a company under the FCC's jurisdiction that Wheeler isn't invested in. In fact, if he's confirmed for the job, he will have to divest from 78 different companies -- from Akamai to Walt Disney. His holdings include at least $500,000 in stock in both AT&T and Verizon.
Click headline to read more--