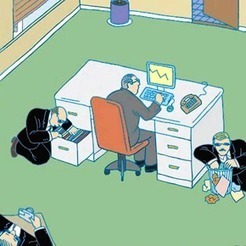 The federal power to wiretap, a central issue during the Bush years, has made a comeback. The White House seems ready to endorse an expansion of wiretapping laws to give the federal government greater power to demand access to Web communications like Facebook chats. Meanwhile, the Associated Press just revealed that the Justice Department seized, without a warrant, two months' worth of its reporters' telephone records.
Critics are, unsurprisingly, up in arms about both matters. House Republicans, recently born again as staunch civil-rights defenders, are depicting the Obama Administration as, in the words of Zeke Miller and Michael Crowley, "a Big Brother–style tyrant in charge of a power-abusing surveillance state." Techies, for their part, simply hate the idea of Web-tapping. Julian Sanchez, for Wired, writes, "The Obama administration needs to dump this ill-conceived scheme on the trash heap where it belongs." But the issue, once you get into it, is actually rather complicated.
Wiretapping the Web provokes a visceral reaction for more than one reason. First and foremost, like any electronic surveillance, it's a massive invasion of privacy by the world's most powerful government. As Justice Louis Brandeis wrote, in 1928, "As a means of espionage, writs of assistance and general warrants are but puny instruments of tyranny and oppression when compared with wiretapping." A wiretapping law can incidentally create a terrible innovation policy. "Build your system this way" has rarely yielded good results, and never when Congress is involved. Finally, some technologists believe that a Web-tapping law will create new Internet security risks, because it would force firms to build backdoors into their systems, which malicious hackers could then exploit.
Click headline to read more--