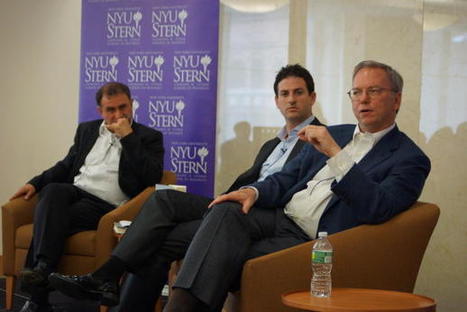 Google Executive Chairman Eric Schmidt on Monday tried to dismiss fears about "Big Brother" knowing too much about everyone.
Many companies, including Google, have been developing new technology that users literally wear. Items such as Google Glass can track a person's location, heart rate, and other activity, and they're likely to become even more sophisticated in the future. They may become so advanced that people barely realize they're on, and they may not realize how much information is actually being collected.
However, Schmidt said that while we may all be hooked up to dozens of wearable computing devices in the future, that doesn't mean companies will track our every move and know everything about our behavior.
A world where everything is going to be tracked is "highly unlikely to occur because people will be upset about it," Schmidt said during an event with New York University Professor Nouriel Roubini and Jared Cohen, director of Google ideas.
"Governments won't allow it, and it will be bad business," he said. "In a competitive environment, businesses actually want their consumers to be happy."
He did acknowledge, however, that privacy remains a key concern around the world, but said each country approaches it differently. People in Saudi Arabia, for example, have a different expectation for privacy than someone in the U.S.
Click headline to read more--