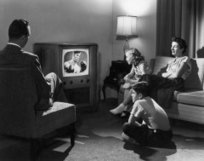 It's 4 a.m., and Cameron Anderson is already up for work. The 27-year-old manages a Starbucks in Wallingford, an enclave of hip families and artists on the north side of Seattle. Five days a week, she's at the store at 4:30 a.m., getting it ready to open a half hour later. To get in a much-needed eight hours of sleep, she shoots for an 8 p.m. bedtime – which means she can't watch Teen Mom 2 on MTV. But that's not a problem.
"Online, I can go and pick and choose what I want," she says. "I can still go to bed at 8 and watch all the shows I want."
Like a growing number of her peers, cable doesn't fit Anderson's lifestyle. And it probably never will.
A November 2012 report from digital media analysis firm The Diffusion Group found that 13% of U.S. households who have broadband services don't have pay-TV (cable, satellite or telco-TV), and of those, 2.6 million have never paid for traditional television. According to TDG, those "cord nevers," as media analysts call them, are disproportionately millennial: 29% are between 18 and 24. A new generation is coming of age, and so is their collective distaste for cable.
Among cable networks and distributors, the prevailing ideology is that when people like Anderson settle down and find jobs with more normal hours, they'll purchase cable subscriptions. Bernadette Aulestia, HBO's senior vice president of domestic network distribution, says the premium cable network uses HBO GO, a companion video streaming service, to hook millennials on popular shows like Girls, Game of Thrones and Eastbound & Down while they have access to their parents' subscriptions.
When they grow up and settle into better-paying, 9-to-5 jobs, she says, they are more likely to add HBO to their cable packages. "When you think about what the next generation of consumers is for us, as they then graduate, household formation, then get the house, get the 40-inch screen and ultimately, decide on the types of services, that they're going to subscribe to us," Aulestia says. "The earlier you can expose customers to the content and get them vested, and part of the dialogue and the water cooler types of shows that we produce, the better."
Click headline to read more--