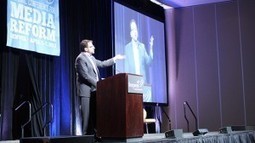 From the digital divide to media consolidation to net neutrality, Craig Aaron, president and CEO of Free Press, is on the front lines of media reform. In a discussion with Moyers & Company's Michael Winship, Aaron says he's hopeful for the future of the movement.
"I think our opponents have very deep pockets. I think they haven't begun to try all of their dirty tricks. But ultimately, I believe that organized people can still beat organized money, and that's what we're trying to do," he says.
The conversation* was recorded at the National Conference on Media Reform in Denver, organized by Free Press.
Click headline to read highlight of interview or listen to the audio--