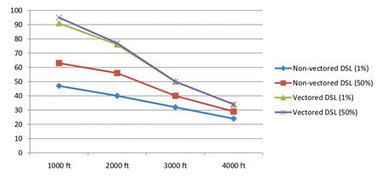 Vectored DSL technology is able to mitigate the crosstalk effects that form the most serious performance bottleneck for dense deployments of DSL lines operating in the very-high-speed region (above 15 Mbps). (See Reference A.) Major DSL chipset vendors recently presented results from Vectored DSL system prototypes (See Reference B.), confirming the very substantial performance gains that were predicted by earlier theory. The standard for Vectored DSL has now been published (See Reference C.), with field trials and initial deployments expected to materialize in the next two years.
Dynamic Spectrum Management (DSM) with Vectored DSL technology, also known as DSM Level 3, can also provide substantial improvements in plant diagnostics. Problem location and isolation occurs rapidly and often automatically, and the information about the loop plant becomes very accurate and detailed. As such, DSM-Vectored DSL can greatly improve the efficiency of maintenance and operation of the DSL services within the plant, as well as simultaneously double or triple the achievable customer DSL speeds.
This article provides a brief overview of the Vectored DSL technology and its benefits. It further describes the implications of Vectored DSL deployment for Operations and Maintenance (OAM) practices, and explains how proper management practices employing DSM principles can maximize the benefits of Vectored DSL.
Click headline to read more--