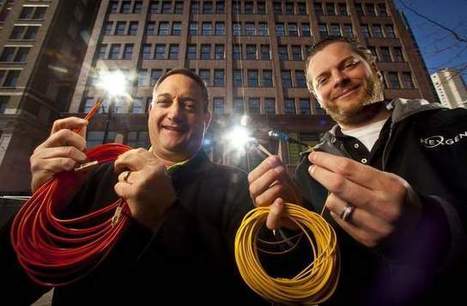 As his firm began a $20 million renovation of the Fleming Building in downtown Des Moines, developer Mike Nelson wanted the latest thing for the 104-year-old building.
He asked Internet provider NexGen Communications: "What's cool?"
What's cool is blazing fast. NexGen's Lance Allison had just provided additional broadband capabilities at a hackathon in downtown Des Moines. That gave him the idea of what he wanted to try next: 1 gigabit-per-second download speeds for residential units. That's 100 times the average fixed high-speed Internet connection available now.
"In five years, having 1 gigabit will be the standard," Allison said. "We wanted to raise the bar."
The high-speed access will debut in Des Moines on June 1, matching speeds in homes that are setting the standard across the country.
Click headline to read more--