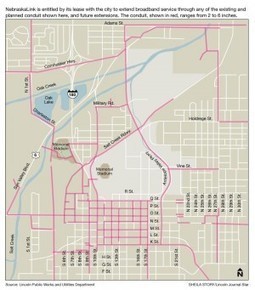 In coming months, downtown Lincoln businesses will have a new option for high-speed Internet.
The city will lease its newly installed fiber-optics conduit grid to NebraskaLink, a broadband service provider based in Lincoln, to extend its fiber-optic infrastructure to the city.
NebraskaLink, a company started in 2010 by a group of Nebraska telephone companies and others, serves many rural Nebraska communities with more than 2,000 miles of fiber optics. It will bring higher speeds, more reliability and competitive prices to downtown Lincoln businesses and government entities, according to a news release from Lincoln Mayor Chris Beutler's office.
"Access to a variety of broadband services and providers is becoming an expectation and is certainly integral to creating a positive business climate," Beutler said Thursday morning. "Enabling this infrastructure enhances our ability to retain employers and increases the likelihood of attracting new business opportunities to our community."
Click headline to read more--