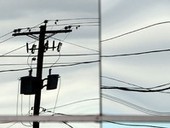 Memphis Light, Gas & Water Division and Comcast are locked in a no-holds-barred fight over pole rent.
For three months now, MLGW has effectively blocked Comcast's expansion of service in Memphis and Shelby County until the cable company agrees to pay about $24 per pole per year, up from about $12.
The broadband communications company has countered by seeking, with the help of its industry trade association, new legislation in the Tennessee General Assembly that would establish a fair-market rent and have administrative law judges settle any disputes.
Comcast is dropping verbal bombs, too. LGW's actions are "borderline criminal," John Gauder, Comcast's area vice president, told The Commercial Appeal Tuesday. The utility is "monopolistic" and "anti-consumer" and "anti-Shelby County resident,'' he said.
Comcast attaches its wires to 93,000 utility poles owned by LG&W, but continues to pay $12.43 per pole yearly instead of the $24.75 other telecommunications companies have agreed to pay, said LGW president and CEO Jerry Collins.
"We have been very nice to allow them to continue to use the poles without benefit of a contract for a five-year period," Collins said. But he added it's wrong for LGW to continue to discriminate in Comcast's favor.
Click headline to read more--