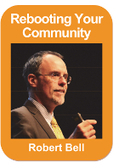 Last summer, according to The Economist, MIT surveyed 108 American manufacturers with multinational operations. It found that 14% of them had firm plans to bring some manufacturing back to America. Another 33% were actively considering it. Almost half of really big US firms, with sales above US$10 billion, plan to "reshore" some of their operations, according to a different study by Boston Consulting Group.
So, is the era of offshoring jobs over? Can American workers – and the communities where they live – relax? Can their counterparts in other high-cost countries from Canada to Europe look forward to a reshoring surge?
And if you live in China, India, Malaysia, Mexico or another offshoring destination – do you need to start watching your back?
I don't pretend to have the answer. But I can tell you about something I saw with my own eyes. Last year, I had the privilege of visiting Oulu, Finland, one of our Top7 Intelligent Communities of 2012 which is also among the Top7 of 2013. I was taken to visit a Nokia manufacturing plant. Now, Nokia has been through some rough years, as its failure to keep up with mobile innovation cost it dearly. Oulu, home to one of the company's major R&D facilities, has suffered right along with it. I was eager to see what the company was doing with the people and facilities they had chosen to keep in Oulu.
What I saw was a manufacturing plant, but of a very specialized kind. This facility exists to take prototypes of new equipment and turn them into production models. Its production capacity is deliberately limited to the thousands of units.
Once they have worked out all the bugs and found the most efficient way to produce the product, manufacturing moves to Asia, where contract manufacturers make millions of them at per-unit costs that the Nokia plant could never equal. But the Oulu plant is not out of the loop. It also functions as the repair facility for the equipment it helps create.
Click headline to read more--