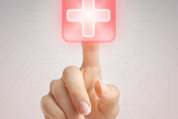 If you keep company with early adopter tech types, it might seem commonplace to book doctors' appointments online or track activity with any of several new wearable sensors. But while digital health is gaining ground, it still has a ways to go before its most innovative applications hit mass adoption. And as bleeding edge individuals and companies embrace new ways of receiving and delivering healthcare, it's critical to consider how new health technology can reach people in all communities – not just the country's elite pockets.
That point was driven home yesterday during a Social Media Week panel I moderated on How Behavior and Patients Can Fix Health Care. I was chatting with three health tech entrepreneurs, Dr. Jay Parkinson, co-founder of Sherpaa; Unity Stoakes, co-founder of Startup Health; and Derek Flanzraich, founder of Greatist, about how they and their organizations are changing health care, when one of the audience members commented that the conversation felt too "self-referential" and asked how to close the behavior gap in health technology. (You can see the whole discussion here.)
It was an entirely fair question – and one that I hope all health technologists ask themselves regularly. While technology, especially mobile devices, is more ubiquitous than ever, there are still disparities in broadband access, availability of digital tools and information about new services. The Pew Internet & American Life Project, for example, reports that Latinos (55 percent) and African-Americans (58 percent) are less likely than Whites (75 percent) to have a home Internet connection. Not surprisingly, Pew also says that those with more education and higher incomes are also more likely to go online for health care information – 78 percent of those who earn more than $75,000 vs. 45 percent of those who earn less than $30,000.
Click headline to read more--