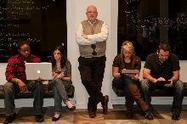 It has taken years, but Google seems to be cutting into Microsoft's stronghold - businesses.
Google's software for businesses, Google Apps, consists of applications for document writing, collaboration, and text and video communications - all cloud-based, so that none of the software is on an office worker's computer. Google has been promoting the idea for more than six years, and it seemed that it was going to appeal mostly to small businesses and tech start-ups.
But the notion is catching on with larger enterprises. In the last year Google has scored an impressive string of wins, including at the Swiss drug maker Hoffmann-La Roche, where over 80,000 employees use the package, and at the Interior Department, where 90,000 use it.
One big reason is price. Google charges $50 a year for each person using its product, a price that has not changed since it made its commercial debut, even though Google has added features. In 2012, for example, Google added the ability to work on a computer not connected to the Internet, as well as security and data management that comply with more stringent European standards. That made it much easier to sell the product to multinationals and companies in Europe.
Many companies that sell software over the cloud add features without raising prices, but also break from traditional industry practice by rarely offering discounts from the list price.
Click headline to read more--