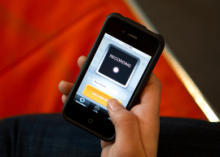 Soon there will be more than just one way to contact 911.
Federal Communications Commission Chairman Julius Genachowski announced today that the four largest wireless carriers in the U.S. have agreed to fast track a service that will let people text the emergency 911 line.
AT&T, Verizon Wireless, Sprint, and T-Mobile have all signed on and major deployments are planned to roll out in 2013 and the service should be fully available nationwide by May 15, 2014.
"Access to 911 must catch up with how consumers communicate in the 21st century -- and today, we are one step closer towards that vital goal," Genachowski said today in a statement.
Dubbed "Next Generation 9-1-1," the FCC has been working on this project for the last two years. When Genachowski first announced the plan to "bring 911 into the Digital Age" in November 2010, he referenced the 2007 Virginia Tech shooting when students tried to text police for help, but were unsuccessful.
The goal of the service is to offer people more ways to contact emergency officials, as well as improve the network to ensure it holds up for new communication technologies. According to Genachowski, a key component in Next Generation 9-1-1 is the rapid deployment of text messaging, photo, and video support.
Click headline to read more and access hot links--