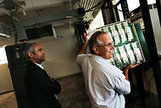 On the ninth floor of an old tire factory in Downtown Brooklyn, Joe Lipowski, chief technology officer of a company called Aereo, proudly showed off a steel sheet covered with TV antennas.
These were not your standard rabbit ears. They were thumbnail-size slivers, neatly arranged in rows. Behind Mr. Lipowski stretched rows of rectangular shelving units with dozens of sheets just like the first.
"There's enough in here to accommodate a half million people," he said. "And that's just the beginning."
The army of antennas is at the core of the ambitious service Aereo is introducing, first in New York and then across the country. Aereo picks up local broadcast channels like Fox and ABC and streams them over the Internet to mobile devices and TV sets. Its subscribers, who can record shows to watch later, pay fees starting at $8 a month.
Aereo executives say they are looking ahead to a future in which many "television" watchers have never had cable, or even a TV, and grab their favorite shows piecemeal from a number of online sources. In that sense they are joining the many other companies, including start-ups like Boxee and hardware juggernauts like Apple, that are trying to position themselves for the next wave of entertainment and media spending.
"The goal is not to recreate the cable companies but to create an alternative for people who are coming into television from the Net side first," said Chet Kanojia, Aereo's founder and chief executive. "There's an emerging population of people who have never signed up for traditional cable packages, who are used to customizing their own TV experience."
Click headline to read more--