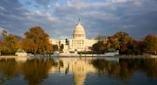 WASHINGTON, D.C. - Congressman Bill Cassidy, M.D. (R-LA) and Pete Stark (D-CA) will host a screening of The Big Picture: Rethinking Dyslexia on Tuesday, May 8th, 2012 from 6:00 P.M. to 8:00 P.M. in Room 2123 of the Rayburn House Office Building on Capitol Hill. This is the first major event for the Congressional Dyslexia Caucus, of which Congressmen Cassidy and Stark are co-chairs.
"Dyslexia is a major learning disability which affects nearly 20% of Americans," said Congressman Cassidy. "By raising awareness of dyslexia we can change the way we educate our children and assist millions of children get on the path to success."
"My motivation in starting the Congressional Dyslexia Caucus with Rep. Bill Cassidy is both personal and professional," said Congressman Stark. "My family has learned about the disability - and the misunderstandings that surround it - through my young son's experience with dyslexia.