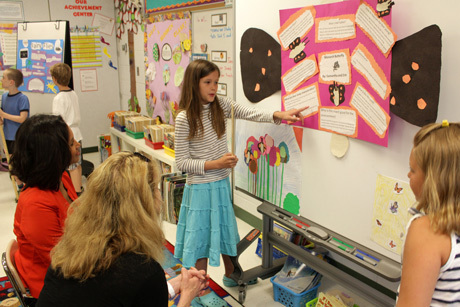 ".....Last week, my son's third grade teacher sent home what at first glance looked like a long homework assignment -- three sets of survey questions with many lines for his responses. After reading the directions, we learned that I was to ask him the questions and transcribe his responses. Each night we settled down for what turned into a thoughtful, reflective conversation about my child: his reading preferences, learning style, interests, likes and dislikes, fears and hopes.
I thought I knew my kid, but I was surprised by some of his responses.....
....Just by asking these kinds of questions teachers can create a classroom culture where student voice is valued, where students feel their needs will be attended to, and where students begin to trust their teacher...
So what might you ask your students? Well, what do you want to know?
Here are some of the questions I asked students:
Tell me about a teacher you really liked and what he/she did that you appreciated
Tell me about a teacher that you felt wasn't effective and why
What do you think makes a "good" teacher?
Describe the most interesting activity you ever did in school
Describe the most challenging class or unit of study
How do you like to get feedback?
If I notice that you're not following one of our classroom agreements, how would you like me to let you know?
On a scale of 1-5, how much do you like reading?
(1: not at all, 2: sort of/sometimes, 3: most of the time, 4: I like reading, 5: I LOVE reading)
On a scale of 1-5, how would you rate your reading skills?
(1: I'm a terrible reader, 2: I'm not a very good reader, 3: I'm an ok reader, 4: I'm a good reader, 5: I'm a really, really good reader)
What did you read last year in school or outside of school?
Who do you know who likes to read?
Outside of school, who do you think believes in you and supports you most?
Who do you want me to tell when you do really well in school?
Tell me about something that's been hard for you in your life
Tell me about something you feel proud of
Tell me about something you love doing that has nothing to do with school
What's your favorite thing to do on the weekend?
If you could have three wishes, what would they be?
What would you like to know about me?
What else can you tell me that would help me be a better teacher to you?....."