Scoop.it!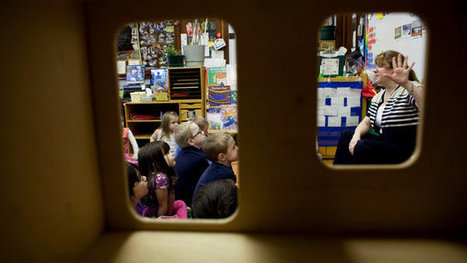 New research suggests that kindergarteners are capable of learning more advanced math concepts than are offered in most classrooms.
Lou Salza's insight:
AMP suggests we examine academic policies and practices that sell our children short.--Lou
Excerpt:
"We hear a lot about how American students lag behind their international peers academically, especially in subjects like math. In the most recent Program for International Student Assessment, commonly known as PISA, students in the United States ranked 26th out of 34 countries in mathematics. On the surface, it would seem that we're a nation of math dullards; simply no good at the subject. But a spate of new research suggests that we may be underestimating our students, especially the youngest ones, in terms of their ability to think about numbers.
A study published in the April issue of the American Educational Research Journal, for example, finds that kindergarten students learn more when they are exposed to challenging content such as advanced number concepts and even addition and subtraction. In turn, elementary school students who were taught more sophisticated math as kindergarteners made bigger gains in mathematics, reported the study's lead author, Amy Claessens of the University of Chicago.
Another study, published last year by Dr. Claessens with co-authors Mimi Engel and Maida Finch, concluded that as things stand, many children in kindergarten are being taught information they already know. The "vast majority" of kindergarteners have already mastered counting numbers and recognizing shapes before they set foot in the classroom, Dr. Claessens and her co-authors noted, yet kindergarten teachers report spending much of their math teaching time on these skills..."