Scoop.it!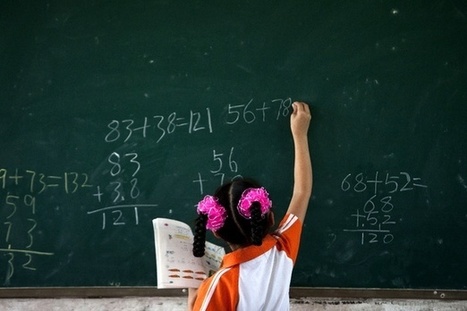 Why playing with algebraic and calculus concepts—rather than doing arithmetic drills—may be a better way to introduce children to math
Lou Salza's insight:
This article suggests that the cost of drilling and memorizing math facts in primary school may be students who will never pursue higher math in secondary school. --Lou
Excerpt:
"....The current sequence is merely an entrenched historical accident that strips much of the fun out of what she describes as the "playful universe" of mathematics, with its more than 60 top-level disciplines, and its manifestations in everything from weaving to building, nature, music and art. Worse, the standard curriculum starts with arithmetic, which Droujkova says is much harder for young children than playful activities based on supposedly more advanced fields of mathematics.
"Calculations kids are forced to do are often so developmentally inappropriate, the experience amounts to torture," she says. They also miss the essential point—that mathematics is fundamentally about patterns and structures, rather than "little manipulations of numbers," as she puts it. It's akin to budding filmmakers learning first about costumes, lighting and other technical aspects, rather than about crafting meaningful stories.
This turns many children off to math from an early age. It also prevents many others from learning math as efficiently or deeply as they might otherwise. Droujkova and her colleagues have noticed that most of the adults they meet have "math grief stories," as she describes them. They recall how a single course—or even a single topic, such as fractions—derailed them from the sequential track. She herself has watched more than a few grown-ups "burst out crying during interviews, reliving the anxieties and lost hopes of their young selves." ...."