Scoop.it!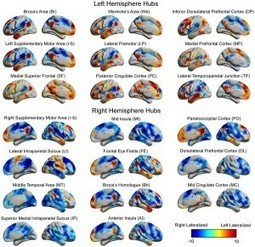 New neuroimaging research suggests there is no evidence to indicate "right-brained" or "left-brained" personality traits exist.
Lou Salza's insight:
What we associate with 'left ' or 'right' brained may indeed have some common personality traits, but these are not apparently mirrored in measurable brain activity:
"we just don't see patterns where the whole left-brain network is more connected or the whole right-brain network is more connected in some people. It may be that personality types have nothing to do with one hemisphere being more active, stronger, or more connected," said Nielsen."
So let's beware of inappropriate generalization--Lou
Excerpt:
"...During the course of the study, researchers analyzed resting brain scans of 1,011 people between the ages of seven and 29. In each person, they studied functional lateralization of the brain measured for thousands of brain regions —finding no relationship that individuals preferentially use their left -brain network or right- brain network more often.
"It's absolutely true that some brain functions occur in one or the other side of the brain. Language tends to be on the left, attention more on the right. But people don't tend to have a stronger left- or right-sided brain network. It seems to be determined more connection by connection, " said Jeff Anderson, M.D., Ph.D., lead author of the study, which is formally titled "An Evaluation of the Left-Brain vs. Right-Brain Hypothesis with Resting State Functional Connectivity Magnetic Resonance Imaging." It is published in the journal PLOS ONE this month..."