Scoop.it!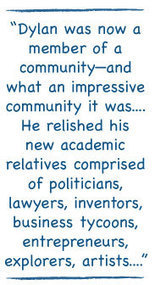 Keeping it real, with a confession of a mother who struggled with the label of #dyslexia for her child. @DyslexiaYale http://t.co/Q4F045Fm
Lou Salza's insight:
For my husband and me, it wasn't hard to put off the truth. We found accomplices everywhere. From kindergarten to fourth grade, there were educators and evaluators who told us our son was too young for a formal diagnosis of dyslexia; many characterized his struggles as a learning lag; other experts told us that there was no such thing as dyslexia. My son's own innate facility with oral language, interpersonal intelligence, humor, and general earnestness helped stave off concern for many of those years. The lack of effective interventions for students with his profile also contributed to our denial. For many years—too many years—we hid behind the belief that there was little incentive to label him if there wasn't effective remediation available.
With all of these opportunities for ignoring the truth, it is no wonder that we, like many other parents of dyslexic children, clung to the idealized version of our child. Unfortunately, denial is an option only when the consequences of avoidance are benign. In the case of learning issues, and more specifically dyslexia, educators and brain researchers now know that early intervention is essential to transformative remediation and developing alternative pathways in the brain. But despite the advantage of having a teacher-mother, Dylan never benefited from early intervention; denial had won out.
By fourth grade, Dylan still hadn't learned to read and we were desperate. It wasn't enough that our son was taught by understanding teachers and had access to special tutors after school. None of it was enough. When I heard some parents and colleagues mention that several students had achieved significant gains with immersion multisensory techniques employed by methods like Slingerland, Orton-Gilligham, and Lindamood-Bell, I decided we had no time to waste. I did some research and realized that there was a Lindamood-Bell center just blocks from our school. At that point, we had nothing to lose: Dylan had to learn to read.