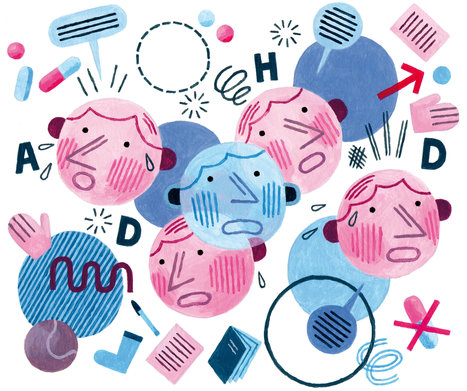 Parents, patients and care providers discuss treatment options.
"...Readers brought varied and strong views to the task of thinking about effective treatment of A.D.H.D. and the place of stimulant medication in that effort. Not surprisingly, the roles they assume with respect to the condition exert a powerful influence in shaping their perspectives.
As a mother of two children with A.D.H.D., Ms. Blum learned that "what medication does is to reduce the noise of competing distractions so that the child can focus on the task at hand." As a stepmother of a child with A.D.H.D., Ms. Barr lamented, "We never got help with how to teach him to cope with his differences — what to do when he got frustrated or needed to take a break to clear his head."
Two mental health professionals (Ms. Steinman, Dr. Cohen) provided contrasting pictures of stimulant medication in the treatment of A.D.H.D. As a pediatrician, Dr. Gold urged us to consider what the experiential causes of A.D.H.D. might be. And as a college student, Mr. Busko experienced dramatic improvements in academic achievement following treatment with stimulant medication.
By drawing on current neuroscience, which emphasizes that A.D.H.D. is a developmental impairment in the brain's cognitive management system, Dr. Brown clarifies how common explanations for the condition (such as "lack of willpower" ) contribute to the continuing misunderstanding and mismanagement of A.D.H.D.
Implicit in each of these perspectives is the discovery that going beyond simplistic, cursory approaches to understanding and treating A.D.H.D. is essential if true lasting improvements are to be had. In Mr. Busko's case, stimulant medication made a world of difference, but I suspect that the difficulties he experienced over the course of his life were instructive and galvanized him to excel once he was able to sustain focus.
As mothers, Ms. Blum and Ms. Barr had to hash out how best to define the condition and how to provide supports for their children even as they were recognizing the benefits and limitations of what medication provided. In their attitudes toward stimulants as mental health professionals, Ms. Steinman's misgivings and Dr. Cohen's vigilance underscore the need to scrutinize their efficacy, while Dr. Brown invokes insights from neuroscience to refine our understanding of A.D.H.D.
And finally, Dr. Gold challenges us to look beyond the immediate, observable symptoms a child shows in order to make sure that any treatment protocol is inclusive: of the child, the family and the dynamics affecting both.
The range of viewpoints and experiences expressed make it abundantly clear just how daunting yet worthwhile it is to grapple with the complexities of treating A.D.H.D. effectively..."
FRANCES C. SUTHERLAND
Bryn Mawr, Pa., Dec. 7, 2012