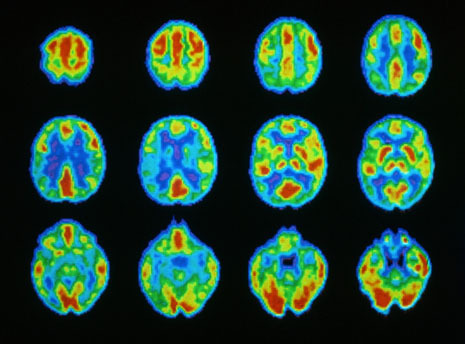 ".....About half a dozen PET studies of speech perception had been published, all in top journals, and David tried to synthesize them, essentially by comparing which parts of the brain were said to be active during the processing of speech in each of the studies. What he found, shockingly, was that there was virtually no agreement. Every new study had published with great fanfare, but collectively they were so inconsistent they seemed to add up to nothing. It was like six different witnesses describing a crime in six different ways.
This was terrible news for neuroscience—if six studies led to six different answers, why should anybody believe anything that neuroscientists had to say? Much hand-wringing followed. Was it because PET, which involves injecting a radioactive tracer into the brain, was unreliable? Were the studies themselves somehow sloppy? Nobody seemed to know.
And then, surprisingly, the field prospered. Brain imaging became more, not less, popular. The technique of PET was replaced with the more flexible technique of functional magnetic resonance imaging (fMRI), which allowed scientists to study people's brains without the use of the risky radioactive tracers, and to conduct longer studies that collected more data and yielded more reliable results. Experimental methods gradually become more careful. As fMRI machines become more widely available, and methods became more standardized and refined, researchers finally started to find a degree of consensus between labs.

Meanwhile, neuroscience started to go public, in a big way. Fancy color pictures of brains in action became a fixture in media accounts of the human mind and lulled people into a false sense of comprehension. (In a feature for the magazine titled "Duped," Margaret Talbot described research at Yale that showed that inserting neurotalk into a papers made them more convincing.) Brain imaging, which was scarcely on the public's radar in 1990, became the most prestigious way of understanding human mental life. The prefix "neuro" showed up everywhere: neurolaw, neuroeconomics, neuropolitics. Neuroethicists wondered about whether you could alter someone's prison sentence based on the size of their neocortex.
And then, boom! After two decades of almost complete dominance, a few bright souls started speaking up, asking: Are all these brain studies really telling us much as we think they are? A terrific but unheralded book published last year, "Neuromania," worried about our growing obsession with brain imaging. A second book, by Raymond Tallis, published this year, invoked the same term and made similar arguments. In the book "Out of our Heads," the philosopher Alva Noë wrote, "It is easy to overlook the fact that images… made by fMRI and PET are not actually pictures of the brain in action." Instead, brain images are elaborate reconstructions that depend on complex mathematical assumptions that can, as one study earlier this year showed, sometimes yield slightly different results when analyzed on different types of computers...."
Read more: http://www.newyorker.com/online/blogs/newsdesk/2012/12/what-neuroscience-really-teaches-us-and-what-it-doesnt.html#ixzz2EOMsSLwm
The sort of short, simple explanations of complex brain functions that often make for good headlines rarely turn out to be true.