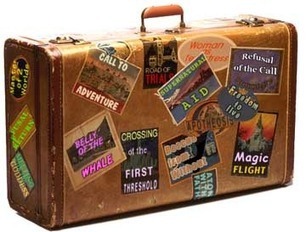 I am at the National Storytelling Conference, a wonderful annual gathering of tellers from all walks of life and all range of experience. It's a great opportunity to hear stories, hone skills and meet new friends.
Truth to tell, I didn't really want to come. I've been very busy and was yearning for a quiet weekend at home. I knew once I got here I'd be glad, but wow, was I grumpy. And when you set out on a journey with that kind of attitude, you are guaranteed a different journey than the one you expect.
On Friday I packed my suitcase and called the cab, thinking if nothing else I'd have a chance to get some writing or reading done on the way.
You know what's coming.
Via
Gregg Morris