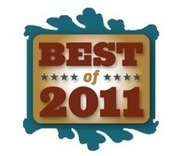 [Some very good stories here.]
It's always fun to revisit multimedia projects at the end of the year when I create my 'top 50′ list. As I do each year, I must stress that this is my list and not a definitive 'best of' list simply because I have not seen all multimedia created and thus cannot create a comprehensive list.
Therefore, below are 50 projects that have inspired me most in 2011. A reader suggested last year that I better organize the sites, so I decided to pick 10 each from the five sectors: journalism, advertising, student work, philanthropy, and documentary.