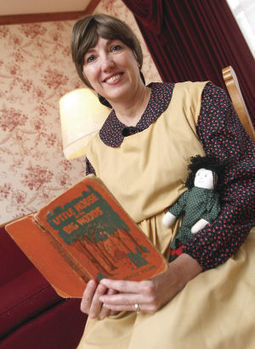 If she were still alive, Thursday (Feb. 7) would be Laura Ingalls Wilder's 146th birthday. The beloved author has been gone since 1957, but her legacy lives on in hearts of many through her popular "Little House on the Prairie" series of books.
And for the past 20 years, Wilder's memory has been brought to life for audiences around the country through a one-woman presentation by professional storyteller Marie Tschopp of Sherrard, Ill.
Dressed in her pioneer-themed costume consisting of a blue calico dress, brown apron and old-fashioned boots, Tschopp brings a talent for acting as well as her passion for the inspirational stories penned by Wilder and entertains her audience as "Laura."
"I wanted to tell stories that inspired as well as entertained and appealed to a wide audience," Tschopp says.