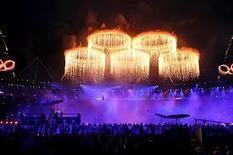 I woke up this morning as high as a kite after watching the epic, awesome Olympic opening ceremony last night. It was an extraordinary display; a great love letter to our country. For me the thing that really elevated it from spectacular to oh-my-god-so-bloody-uber-amazingly-spectacular was the rich storytelling.
Danny Boyle crafted a story that is familiar to us (about our modern history) but told it in such a beautiful way that you couldn't help but be captivated. From the first scene change, the rolling green hills disappearing under the satanic mills of the industrial revolution, the audience could anticipate the story arc; but that only added to the sense of drama.
The tiny details - the poppies swaying in the breeze, the torch under the bed covers - contrasted with the big bang moments, enhancing the story further. One of my favourite authors Gabriel Garcia Marquez once said: "If you say that there are elephants flying in the sky, people are not going to believe you. But if you say that there are four hundred and twenty-five elephants in the sky, people will probably believe you." That stuck with me as a journalist and I think about it often in my current role; the beauty (and the devil) is in the detail.
Storytelling is a skill as old as speech itself and yet its power remains. That power is why successful storytelling is fundamental to employee engagement. In fact David MacLeod identified creating a strong, strategic narrative as one of the enablers of engagement in his seminal study, Engage For Success.