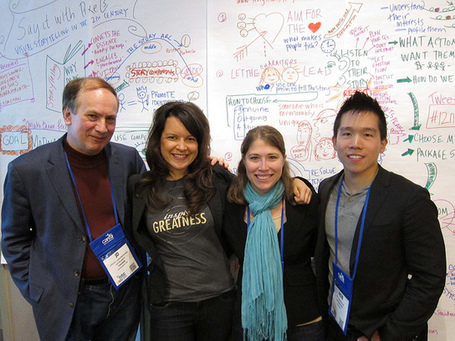 Last week, I attended the Nonprofit Technology Conference, and had the pleasure of attending an interesting session on "The Future of Nonprofit Storytelling." Moderated by Rob Wu of CauseVox, it included an all-star panel of storytelling experts: Cara Jones of Storytellers for Good, Jenna Sauber of the Case Foundation, and JD Lasica of Socialbrite. (I am also a Socialbrite colleague.) The panel pondered some interesting questions and offered concrete tips on how to create compelling stories, defining what is a story, storytelling tools, and creating an internal culture of storytelling.
Rob Wu, the moderator, asked these questions of the panel:

What is storytelling?
How is storytelling different from marketing communications?
How do you shift your nonprofit into a culture of storytelling?
What are your tips for capturing stories?
What tips do you have for storytelling and storytelling tools?
Where is storytelling going in the future?
[Image courtesy of JD Lasica, Creative Commons license]