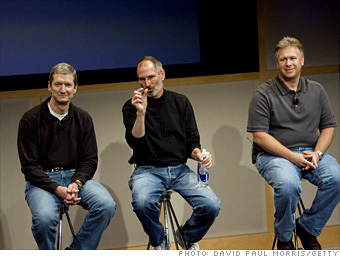 Here is his best invention. Apple is now a pool of amazingly talented people.
"We've got really capable people at Apple. I made Tim [Cook] COO and gave him the Mac division and he's done brilliantly. I mean, some people say, 'Oh, God, if [Jobs] got run over by a bus, Apple would be in trouble.' And, you know, I think it wouldn't be a party, but there are really capable people at Apple. And the board would have some good choices about who to pick as CEO. My job is to make the whole executive team good enough to be successors, so that's what I try to do."
On hiring people :
""When I hire somebody really senior, competence is the ante. They have to be really smart. But the real issue for me is, Are they going to fall in love with Apple? Because if they fall in love with Apple, everything else will take care of itself. They'll want to do what's best for Apple, not what's best for them, what's best for Steve, or anybody else.
"Recruiting is hard. It's just finding the needles in the haystack. We do it ourselves and we spend a lot of time at it. I've participated in the hiring of maybe 5,000-plus people in my life. So I take it very seriously. You can't know enough in a one-hour interview. So, in the end, it's ultimately based on your gut. How do I feel about this person? What are they like when they're challenged? Why are they here? I ask everybody that: 'Why are you here?' The answers themselves are not what you're looking for. It's the meta-data."